Finding the right place to travel in March can be tricky. After all, it's a common time for Spring Break, but most schools let out for only a week. Such a short time can limit one's travel options immensely. Fortunately, we've got you covered. Keep scrolling for the 20 best underrated places to travel in the month of March.
Botswana
March marks the end of the rainy season in Botswana, making this month an ideal time to visit the Southern African country. While it's certainly doable to hire a car and conduct a self-drive tour, we suggest joining a local tour company, the most convenient way to see all that this beautiful country has to offer. Joining a guided tour will also increase your chances of seeing exciting wildlife like crocodiles, hippo, and the collection of safari animals known as the Big 5: leopard, lion, elephant, rhino, and water buffalo.
Cambodia
As tourism in the nearby countries of Thailand and Vietnam have increased exponentially in recent years, visitors to Cambodia have remained relatively steady. But visiting Cambodia is extremely budget friendly, and flights from the United States are typically cheaper than flights to Europe or Africa. While Cambodia has a ton to offer, make sure your itinerary includes time spent in Siem Reap, where you can explore the ancient temples of Angkor Wat.
Canary Islands
Don't let their location off the coast of West Africa fool you. The Canary Islands actually belong to Spain, and are a popular getaway for Europeans craving sun and warmth. March happens to be the perfect time to visit this collection of seven beautiful islands. The main island, Gran Canaria, is perfect for the visitor hoping to enjoy the local nightlife. For the person who is after a more physically active vacation, Fuerteventura is perfect. Indeed, it's one of the best places on Earth for wind sports. The island of La Gomera is home to some excellent hiking trails and natural beauty, while Tenerife has just about everything: gorgeous beaches, great restaurants, and even a bit of history.
Casablanca, Morocco
If Morocco seems like the perfect March destination, skip the busy cities of Fez and Marrakesh and head instead to Casablanca. This [slightly] smaller city feels like a small town, with a local culture that is at once both North African and European. Days can be spent visiting must-see sites like the Hassan II Mosque and The Corniche, the latter of which is a gorgeous seaside resort area known for its sophisticated hotels, world-class shopping, tasty restaurants, and of course, stunning beaches.
Charleston, South Carolina
There's no need to leave the U.S. on a March vacation. While all your neighbors head to Florida, travel instead to Charleston, South Carolina. This picturesque city is practically synonymous with Southern Charm and Hospitality. Since the stifling heat of summer is nonexistence in March, spend your time wandering beautiful Charleston's historic downtown or enjoying the beach areas.
Curaçao
Due to the availability of short flights from the United States, consistent weather, and undeniable beauty, the Caribbean is a pretty popular place to travel in March. However, one Caribbean country which tends to avoid the masses is Curaçao. A former Dutch colony, Curaçao is characterized by its colorful architecture, vibrant arts traditions, and a culinary scene that's quickly making a name for itself internationally. Oh, and its beaches. Curaçao is home to some of the most beautiful beaches on Earth, and March just happens to be an excellent time to enjoy lazing on the white sand or frolicking about in the crystal-clear waters. Come evening, head to the capital city of Willemstad for its wide selection of outdoor eateries.
Cyprus
March is a great time to visit the Mediterranean country of Cyprus, before the hoards of tourists come and before the temperatures rise to uncomfortable degrees. The beaches in Cyprus are some of the best in Europe, while the country's coastal villages look as if they're right out of a coffee table book. Of course, you'll want to spend a little time on the beach. But don't forget to head inland, too, where you'll find waterfalls, incredible overlook points, and even an impressive collection of wildlife.
Dubrovnik, Croatia
Now that Dubrovnik, Croatia has become one of Europe's trendiest destinations, visiting the city during the summer is complete mayhem of an experience. Instead, visit Dubrovnik in March, when the weather is just beginning to warm up and the crowds are still sparse. Located in the southernmost part of Croatia, Dubrovnik is an absurdly picturesque medieval city in which you'll want to get "lost." Must-do activities include a walk along the city's wall, a foray into the crystal-clear waters on a glass-bottom boat, and a day trip to nearby Mostar, Bosnia or Montenegro.
The Galapagos Islands, Ecuador
It's true that any time of year is ideal for a visit to The Galapagos Islands in Ecuador. But in March, the crowds are still relatively sparse, prices a little cheaper, and the wildlife experiences as incredible as ever. Grab some fins and a snorkeling mask to take advantage of the crystal clear waters this time of year. You're likely to see an incredible variety of fish, plus a sea turtle or two. On land, keep your camera ready for sightings of albatross or the rare blue-footed booby.
Jordan
The Middle East gets very hot, so visiting the country of Jordan during the relatively cool month of March is just plain smart. This tiny country is well known for its beautiful landscapes and welcoming people. Book a tour to Wadi Rum, and awe over its desert flowers and beautiful natural rock formations. And of course, no trip to Jordan is complete without a visit to Petra, a UNESCO World Heritage Site.
Kauai, Hawaii
We know what you're thinking: it's always a good time for Kauai! True, but we'd say March is just about the perfect time! In March, the big rains from the rainy season are just starting to let up. Of course, Kauai is known as the Garden Isle, and so visitors should expect a few sprinkles daily, no matter what time of year. Head up to Waimea Canyon to take in sweeping views of what Mark Twain called "The Grand Canyon of the Pacific." Then spend your days exploring little beach towns like Hanalei and Hanapepe, or lazing around on world-class beaches such as Lydgate and Poipu. Come mealtime, don't leave the island without at least one lunch or dinner at the beachside Duke's.
Mérida, Mexico
The first of three Mexican destinations to make our list of great underrated places to travel in March is Mérida. While this time of year tends to attract hoards of college-age Spring Breakers to Mexico, Mérida tends to get overlooked — great news! This charming coastal town is located in the Yucatan, and therefore boasts a rich colonial history, lots of colorful architecture, and of course, gorgeous beaches. Mérida is known for its many spa resorts, which are surprisingly budget friendly, especially at this time of year.
Mexico City, Mexico
Mexico City is the safest it's been in years. It boasts an impressive collection of historical sites, and a practically endless amount of charm. Put all these together and you've got what we think is one of the world's most underrated cities. The weather in March is still cooler than it's about to get, and the rain is still pretty much nonexistent. Such ideal conditions are perfect for exploring this massive city and its surrounding historical areas. Savvy travelers will grab what is usually a very inexpensive flight from the U.S. to Mexico City, spend a couple days exploring the capital, then book a cheap domestic flight to a place like Cancun.
Porto, Portugal
Porto is to Portugal as the Costa del Sol is to Spain and Nice is to France. This gorgeous coastal city is near perfect in March, when the warm temperatures have returned but the big crowds have not. Days can be spent wandering Porto's historic streets, lazing along sand beaches, or swimming in the warm Atlantic waters. Just as the sun sets, find a welcoming rooftop bar to wile away the night with drinks, appetizers, and the new friends you're sure to make in this friendly country.
Quebec, Canada
The Canadian province of Québec is an excellent choice of March travel destination. Besides being an easy flight from most of the United States, it's also extremely budget friendly. It enjoys a unique French-Canadian culture reminiscent of Europe. Check out Québec City for its pleasant atmosphere, picturesque French cafes and cobblestone streets, and beautiful historic architecture. Not too far away is Montreal, with its own long list of things to do and see.
Santiago, Chile
March is an excellent time to visit the Southern Hemisphere, considering it's still summer there at that time, and Santiago is an excellent choice of Southern Hemisphere city. By March, the rain has mostly let up in Chile. This is good because Santiago's beaches are just about perfect in warm weather! Between sunbathing on the sand and wading into Chile's warm waters, book some tours at a few of Santiago's many interesting historical sites.
Singapore
Thanks in part to various Instagram influencers and the success of the book and film Crazy Rich Asians, there are few destinations as trendy as Singapore. Still, notably fewer tourists choose to visit in March. This tiny country is chock full of must-see sites, including:
the out-of-this-world Gardens by the Bay
the rainforest-like Singapore Zoo
the 700,000-square-foot National Gallery Singapore
Don't leave the country without heading to the top of the Tiger Sky Tower, the best place to get incredible panoramic views.
St. Thomas, U.S. Virgin Islands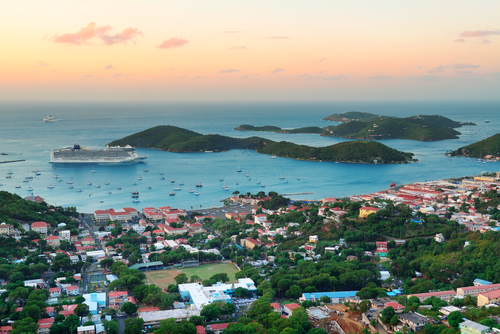 Granted, St. Thomas and the rest of the U.S. Virgin Islands are some of the most popular travel destinations for Americans, who aren't required to have a passport to visit. And yet, if there is an ideal time to visit, it's March. Indeed, the busy season is at its tail end, hotels and restaurants are open (and typically discounted a bit), and airfare is a little cheaper. March is also the perfect time to wile away the days on the white sand beaches for which St. Thomas is so well known.
Venice, Italy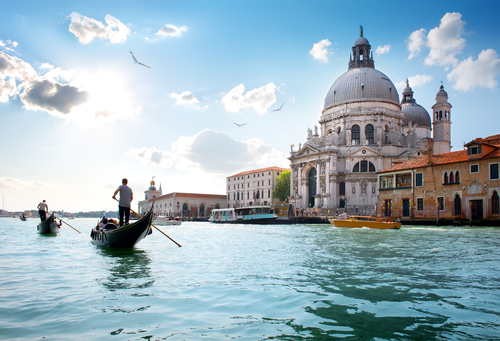 Venice is just as charming and romantic in March as it is in any other month. But it's a whole lot less crowded! The smaller crowds, paired with the fact that Venice is much more budget-friendly in this shoulder season, allows March visitors to stay closer to Venice's must-see sites. These sites include:
the Doge's Palace
Saint Mark's Basilica
the Piazza San Marco
Just don't plan too many sights and excursions for your March trip to Venice, as part of this city's appeal is getting "lost" in its maze-like streets.
Zihuatanejo, Mexico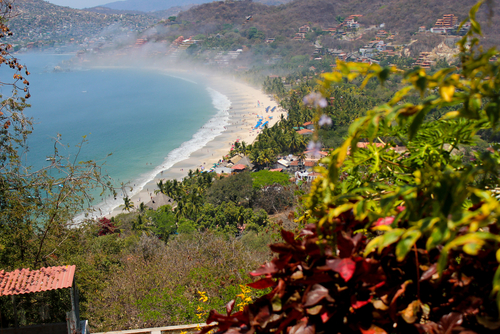 Mexico City isn't the only great underrated place to visit in Mexico in March. Add to your itinerary Zihuatanejo, a small town located on the country's Pacific coast. Commercialism hasn't quite made it here yet, ensuring visitors catch an authentic glimpse of real Mexican charm. Spend a few days lazing along the beautiful beaches, then venture into the old-world downtown to find the perfect restaurant to wile away the evening hours.