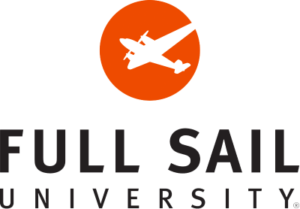 Hospitality Degrees Offered at Full Sail University
Full Sail University appears in our ranking of the 5 Best Online Schools for a Bachelor's Degree in Entertainment Management.
Full Sail University offers a bachelor's and master's degree in entertainment business. Both programs can be completed either on campus or online.
The Bachelor of Science in Entertainment Business blends crucial business and management knowledge with personal development. The courses are presented in a project-based atmosphere that features similar professional scenarios as future jobs. Students examine an array of business models and study various topics, including business technology and design, marketing, global media management, event management, and professional selling. The curriculum concentrates on the development of both professional and personal skills. The program requires the completion of a total of 120 credit hours. The core courses include: Business in the Entertainment and Media Industries, Business Management, Popular Culture in Media, New Media Tools, Entertainment Business Models, Event Management, Entrepreneurship in the Entertainment Business, Global Media Management, Audience Metrics, and Project and Portfolio: Entertainment Business.
The Master of Science in Entertainment Business involves advanced study of the specific business and management abilities needed to succeed and lead in the world of entertainment. Students learn the methods of upper-level executives and are able to apply their understanding of practical tasks. Students learn about financial planning, contract negotiation, and publishing and distribution. Students must complete a final project, a formal business plan. A total of 41.5 credit hours are necessary for the completion of the degree. The required courses include Entertainment Business Finance, Executive Leadership, Project and Team Management, Negotiation and Deal-Making, Advanced Entertainment Law, and Entertainment Media Publishing and Distribution.
About Full Sail University
Full Sail University is a private, for-profit institution of higher learning located in Winter Park, Florida. It was established in 1979 in Dayton, Ohio as Full Sail Productions and Full Sail Center for the Recording Arts. It started out as an audio recording workshop and provided students with real-world experience. It relocated to Florida in 1980 and finally Winter Park in 1989. It gained accreditation in 1990. It continued to expand and it started offering specialized associate degrees in 1995. It started offering bachelor's degrees in 2005 and master's degrees in 2007. Also in 2007, Full Sail University started offering online degree programs. The school finally became Full Sail University in 2008. Today, Full Sail University is home to more than 15,000 students on its 210-acre campus that features a film backlot, soundstages, and 110 studios. It also features an array of computer labs.
Full Sail University strives to provide students with an innovative type of education. The programs blend elements of business, art, creativity, life skills, educational achievement, and technical expertise. Every program is intended to provide students with the essential knowledge and real-world experience that assists in the identification of career goals in the entertainment and media industry. Full Sail University offers more than 93 programs at the associate, bachelor's, and master's degree levels created for the entertainment, technology, arts, and media industries. The university's creative method to instruction provides a relevant, fast-paced educational experience that reflects the workflow and cooperation in today's constantly changing industries. Instructors are dedicated individuals that focuses on the job opportunities available in a constantly changing marketplace. The programs are delivered through real-world production studios and classrooms and through the online learning platform. The instructors strive to empower students through an active relationship with the entertainment and media field. The close relationship with industry professionals enables employers to easily recruit qualified applicants. The learning environment is designed with high-quality studios, labs, and classrooms to promote real-world experience at all levels. Students learn about the same workplace practices used in recording sessions, film productions, live events, design projects, animation, video game development, and entertainment business strategies. The online courses and degrees are driven by a real-world approach the utilizes current technology.
Notable alumni from Full Sail University include Mike Jaggerr, Adam Best, Ryan Connolly, DJ Swivel, Michael Barber, Steven C. Miller, Susan Nwokedi, and Adam Wingard.
Full Sail University Accreditation Details
The Accrediting Commission of Career Schools and Colleges nationally accredits Full Sail University to grant associate, bachelor's, and master's degrees in business, design, audio, and computer animation.
Full Sail University Application Requirements
Undergraduate
Application for admission
$75 nonrefundable application fee
Official high school transcript
Official transcripts from previous colleges and universities
Official scores from the SAT or ACT
Graduate
Application for admission
Official transcripts from previous colleges and universities
Current resume
$75 nonrefundable application fee
Tuition and Financial Aid
Tuition
Undergraduate tuition varies by program, ranging from $500 to $671 per credit hour
Graduate tuition ranges from $534 to $850 per credit hour
Financial Aid
Scholarships, grants, loans, and work-study are available at Full Sail University to assist students in paying for their college education.
Scholarships
Full Sail Alumni Scholarship
Momentum Scholarship
Dedication Scholarship
Creative Spark Scholarship
Merit Scholarship
Student Support Scholarship
Anniversary Scholarship
Pathway Scholarship
Global Achievement Scholarship
STEM Scholarship
Grants
Federal Pell Grant
Federal Supplemental Educational Opportunity Grant (FSEOG)
Florida Student Assistance Grant
Florida Bright Futures Scholarship Program
Loans
Federal Subsidized Direct Loan
Federal Unsubsidized Direct Loan
Federal Parent Direct PLUS Loan
Graduate PLUS Loan
Federal Work Study
The Federal Work-Study program, often abbreviate FWS, is a federally funded program that enables students to pursue part-time jobs to earn money to help pay for college. Students must demonstrate a financial need to qualify. Students are able to work both on and off campus up to 20 hours a week while classes are in session. They pay varies by situation, but students make at least the current federal minimum wage.
The entertainment business degrees provide students a solid understanding of the entertainment industry and enable them to gain specific business, managerial, and entrepreneurial skills. The hospitality degrees offered at Full Sail University prepares students for a wide range of careers in the entertainment industry, including artist manager, event management, talent agent, and entertainment business instructor.