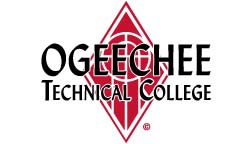 Preparing for Hospitality Careers at Ogeechee Tech
Ogeechee Technical College appears in our ranking of the 50 Most Affordable Small Colleges for Hospitality Administration and Management.
Since Fall 2003, the Culinary Arts Department has granted a Hotel, Restaurant, & Tourism Management AAS for Ogeechee Technical College students to develop customer-focused service skills for the $1.6 trillion global travel industry. Chaired by Prof. John Witherington, the 60-credit, SACS-accredited curriculum builds the business foundation for running a successful food and lodging organizations. Majors take courses from Hospitality Marketing to Beverage Management during the daytime or evening at the Occupational Services Building and online on Blackboard with a 16:1 student-faculty ratio. Second-year students complete 135 hours at internships, such as Holiday Inn, Hyatt Regency, and Buckhead Life, for 93.4 percent job placement. For a shorter study, undergrads can pursue the 15-month Hotel, Restaurant, & Tourism Management Diploma or nine-credit Event Coordinator Certificate.
About Ogeechee Technical College
Ogeechee Technical College originated in 1986 when the Georgia General Assembly signed legislation to create a publicly funded, two-year institution for Statesboro. In Spring 1989, an inaugural class of 25 started Ogeechee's first for-credit program for practical nursing. In 1990, the Department of Technical & Adult Education invested $6 million to build its main 75,000-square-foot building. In 1993, Ogeechee Tech grew rapidly with the new Helping Outstanding Pupils Educationally Grant. In 1995, OTC was accredited by the Council on Occupational Education for career-oriented instruction. In 1999, Ogeechee spent $5.5 million to expand to Sylvania with the Screven County Learning Center. The next January, the Associate of Applied Technology degree was debuted. On July 6, 2000, the Ogeechee Technical College name was adopted. In 2007, OTC formally joined the Technical College System of Georgia. Tobacco-free since 2011, Ogeechee earned initial regional accreditation in June 2014.
Budgeting $22.21 million yearly, Ogeechee Technical College now educates 1,572 full-time and 1,136 part-time students from 100+ Georgia counties online or at its 32-acre Statesboro campus outside Savannah with 10 clubs like Phi Beta Lambda for 71 percent retention. In 2016, OTC won the Technical College Foundation Association's Role Model Award. In 2011, Ogeechee accepted the TCSG Perdue Award for Georgia Technical College of the Year. In 2019, OTC had a Rick Perkins Award for Excellence in Technical Education recipient too. USA Today ranked Ogeechee Technical College #1 in Georgia for job placement. On Niche, OTC boasts America's 147th best community college programs. Community College Week placed Ogeechee Tech 34th for two-year associate degrees. SR Education Group named Ogeechee Technical College fourth statewide for online learning.
Ogeechee Technical College Accreditation Details
On August 21, 2018, Ogeechee Technical College satisfactorily submitted a Quality Enhancement Plan to the Southern Association of Colleges and Schools Commission on Colleges (SACSCOC) to continue the Level I accreditation through 2028-29 under President Lori Durden, MBA. Located 209 miles west via Interstate 16 in Decatur, this esteemed 11-state South Atlantic Region accreditor is recognized by the Council on Higher Education Accreditation (CHEA) to review OTC's 35 departments with 120+ programs.
Ogeechee Technical College Application Requirements
Getting into Ogeechee Technical College is classified "least selective" by the U.S. News & World Report because 100 percent of the 1,082 Fall 2017 entrants had open admission. Prospective Hotel, Restaurant, & Tourism Management AAS majors still must present a verified high school diploma or GED certificate though. Homeschooled students must meet course standards outlined by the Georgia Department of Education. Transfers can carry over up to 30 semester or 45 quarter credits graded C or better from regionally accredited colleges. Being age 16 or older and capable of exceeding occupational competencies is mandatory. International learners must be fluent with a minimum of 500 TOEFL pBT or equivalent scores. Non-U.S. residents need at least $27,070 available for funding. Accuplacer scores above 55 reading, 60 writing, and 34 numerical are mandatory unless waived. Individuals with at least 430 SAT Reading, 400 SAT Math, and 17 ACT scores would automatically qualify.
Ogeechee Technical College conveniently accepts applicants on a rolling basis year-round. Final deadlines are currently August 7th for Fall, January 8th for Spring, and May 13th for Summer starts. Note financial aid priority dates are July 1st, December 1st, and April 1st respectively. Hopeful Hotel, Restaurant, & Tourism Management AAS students must complete the online or paper OTC Application for $25. Send official high school or college transcripts to One Joseph E. Kennedy Boulevard in Statesboro, GA 30458. If taken, testing reports are forwarded via SAT/TOEFL code 0154 or ACT code 4819. Fulfill other checklist requirements, such as the proof of residency, Accuplacer exam, F-1 visa information, and written letter of support. Contact (912) 688-6994 or enrollmentservices@ogeecheetech.edu with questions.
Tuition and Financial Aid
For 2019-20, Ogeechee Technical College is charging Georgia residents tuition of $100 per credit. Non-resident Hotel, Restaurant, & Tourism Management AAS majors pay $200 per credit. Mandatory student fees are $370 per credit for everyone. Undergrads might incur the $45 late registration fee, $15 retest fee, $15 program change fee, or $30 return check fee. Adult education students spend $160 for the Georgia GED test. Full-time semester attendance costs $1,570 in-state and $2,770 out-of-state. Yearly tuition for 12+ credits each term is $3,140 to $5,540. OTC budgets $7,127 for off-campus room and board. Students should leave $724 for books and $1,684 for miscellaneous each year. Annual expenses range from $12,411 to $14,547.
According to the NCES College Navigator, the Office of Financial Aid at the Joseph E. Kennedy Building connects 83 percent of full-time OTC students with tuition assistance averaging $4,749 apiece for $7.82 million combined. Institutional funds include the Charlie Joe Mathews Memorial Scholarship, David Russell Memorial Scholarship, Kiwanis Club of Statesboro Scholarship, Non-Traditional Scholarship, Past President Scholarship, Philip Stewart Memorial Culinary Arts Scholarship, Sonic Drive-In Culinary Arts Scholarship, Nick Lane Memorial Scholarship, and Professional Women of Statesboro Scholarship. The General Foundation Scholarship gifts six $1,000 awards annually to Ogeechee Tech undergrads maintaining a minimum 2.75 GPAs. Full-time Hotel, Restaurant, & Tourism Management AAS majors from Screven County could earn the $1,000 Planters EMC Operation Round Up Scholarship. Federal resources, such as the Pell Grant and Direct Loan, require FAFSA applications coded 030300. Georgians can also claim the HOPE Career Grant, Zell Miller Scholarship, Dual Enrollment Grant, or Public Safety Memorial Grant.
For more information about the programs offered at Ogeechee Technical technical college, click here.