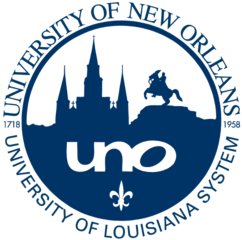 Hospitality Degree Programs at The University of New Orleans
The University of New Orleans appears in our ranking of the 10 Best Online Colleges for a Master's Degree in Hospitality.
The University of New Orleans offers degree programs in hospitality management through the Lester E. Kabacoff School of Hotel, Restaurant and Tourism Administration. Undergrads can get a Bachelor of Science in Hotel, Restaurant and Tourism Management. This program features courses in business, accounting, marketing and management. Students also take classes that include real-world experiences. They can work in actual hotels and restaurants and earn course credit. The Hospitality Research Center at The University of New Orleans offers other opportunities for students too.
In the entire state of Louisiana, there are only two graduate programs in hospitality management, both of which are available from The University of New Orleans. The first is an on-campus Master of Science in Hospitality and Tourism Management. Graduate students can do internships with leading companies and corporations such as Hyatt and Sheraton hotels and through programs like the Disney College Program. Students take 10 courses and do a Work Experience. Some of the classes in the hospitality program include Survey of the Hospitality and Tourism Industry, Hospitality and Tourism Industry Strategic Management and Marketing Applications for the Hospitality and Tourism Industry.
The university developed an online Master of Science in Hospitality and Tourism Management for busy executives and other working students. This program features eight-week classes and asks that students complete five terms each year. They do two sessions during the spring and fall semester and a single session in the summer. The program features the same classes as the on-campus program does, including Hospitality and Tourism Operations Analysis, Hospitality and Tourism Research Methods, Tourism Destination Development and Hospitality and Tourism Finance and Revenue Management. The university expects executives in the online program to already have experience, which is why it does not require that they do internships or other types of fieldwork.
About The University of New Orleans
The University of New Orleans is a public university in Louisiana that is part of the University of Louisiana system. Established in 1956 as Louisiana State University in New Orleans, it was the first public university in the city. New Orleans was the only major city in the United States at the time without a university. Located right on the water, the university quickly became a popular choice for local students as well as students from outside of the state. It became The University of New Orleans just one decade after opening and joined the UL system in the 2010s.
Though the campus suffered some serious damage during Hurricane Katrina, it quickly worked to fix that damage and open. It was the first school in New Orleans to reopen after the natural disaster. Many of its students took online classes until the university reopened. Also called UNO, the university ranks within the top 200 to 500 schools in the United States, according to Forbes, U.S. News and World Report and Washington Monthly. The university also ranks among the top schools in the south and in Louisiana. Enrollment at UNO now includes more than 6,000 undergrads and more than 1,400 graduate students and post-graduates.
The University of New Orleans Accreditation Details
Many of the classes offered to hospitality and tourism management students have accreditation from the Association to Advance Collegiate Schools of Business (AACSB). The programs in tourism and hospitality management do not have accreditation though. UNO also has regional accreditation, which comes from the Southern Association of Colleges and Schools (SACS), which covers every UNO program. SACS accreditation is also what allows students to use the FAFSA as a way to get financial aid and to transfer any of their college/university credits.
The University of New Orleans Application Requirements
The final deadline for freshman applications is August 20, but the university charges a $150 fee for students who apply and register after the 15th of the month. UNO will also accept applications until December 31 for the spring semester and May 20 for the summer semester. Though there is not a set deadline for graduate students, the university recommends that students submit their applications by March 15 if they will also apply for financial aid.
Some of the minimum requirements for undergrads include a GPA of 2.5 or higher and a minimum score of 1010 on the SAT or an equivalent score on the ACT. A special program allows students who have a high GPA and a low test score the chance to enroll on a provisional basis. This same program accepts home school students. Prospective UNO students must submit their applications online and then send the university their transcripts and test scores.
Graduate students need the same GPA to enroll in one of the hospitality and tourism management programs. Students will also submit a resume that shows they have the experience to start the executive online program. The university may ask for letters of recommendation also. There is an application designed for graduate students too.
Tuition and Financial Aid
Undergrads can take up to 15 credits each semester and qualify as a full-time student. They pay $9,354 a year as a Louisiana resident and $14,190 a year as a nonresident. A meal plan and housing add more than $7,000 to their annual costs. The university offers a meal plan that gives students unlimited meals every week and a cash balance that they can use on snacks and other items each week. Full-time graduate students can take up to nine credits each semester. Louisiana graduate students pay $9,108 per year, while nonresident grad students pay $13,678 a year. UNO offers room and board packages for grad students for around $9,00 a year too.
UNO offers financial aid packages for students who qualify, but it only awards packages to those who submit the FAFSA. This form asks students to either use their tax returns from the last year or their parents' tax returns, based on their ages and other factors. The FAFSA is a requirement for those who want to take out federal subsidized or unsubsidized loans. Students can also get grants and find out if they qualify for the Federal Work Study program through the FAFSA too. Those who want financial aid to pay for one of The University of New Orleans hospitality degree programs should submit the FAFSA and their applications by the beginning of spring.