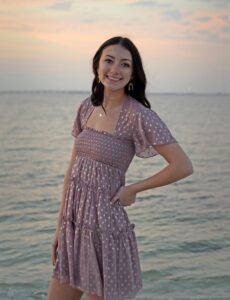 Congratulations to Ava L. McKinney of Festus, Missouri. She has been named winner of the fall 2021 Best Hospitality Degrees Scholarship of $1,500!
Ava graduated with honors from Festus High School. While in school she held leadership positions in several clubs and organizations. These included: National Honor Society Treasurer, Student Council Representative, and Student Council Public Relations Committee President. She has also participated in French Club, soccer, track and field, and yearbook.
Ava has been accepted at Missouri-Columbia University where she plans to earn a degree in Hospitality Management and a minor in Business. She then plans to earn a certificate in Baking and Pastry Arts at a culinary school.
Ava has devoted hundreds of hours volunteering to help others in many areas, such as at the food pantry and the Special Olympics. She spent over 400 volunteer hours at the Grayhawk Straycat Rescue caring for pregnant or nursing cats with kittens.
About her time at the Ozark Food Pantry, Ava said: "My time at the food pantry educated me on the importance of food programs in my community and allowed me to see the topic of hunger as critical."
Ava said while she was growing up her family was very active in the community on various hospitality and cooking committees. "Cooking Thanksgiving meals at church, volunteering to make desserts at the community diversity luncheon during Black History Month, and donating baked goods for community fundraisers has taught me many lessons about relationships that stretch far beyond the kitchen," she said.
In his recommendation letter, Dean Navratil, Social Studies Instructor, said: "Ava is a well- a rounded, driven individual who uses her strengths and character to not only improve herself but to also improve those around her and her community."
Best Hospitality Degrees agrees that Ava McKinney is an amazing young woman. In addition to being academically successful, she has shown continuous compassion for those in her community. She has the admirable goal of graduating from college, creating her own business, and continuing to serve in her community."