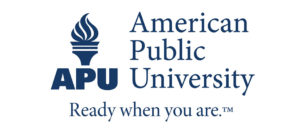 Two APU Degrees Designed for Hospitality Careers
American Public University appears in our ranking of the Most Affordable Online Schools for Bachelor's in Hospitality.
Since 2002, the School of Business led by Dr. Chad Patrizi has granted the Associate of Arts (AA) in Hospitality Management for American Public University Volunteers to build entry-level knowledge of today's growing tourism and food service industries. The 60-credit, ACBSP-accredited major offers a Restaurant Operations Specialization to learn the optimal leadership procedures for culinary enterprises. Undergrads enter accelerated, eight-week online courses like Hotel Purchasing, Hospitality Marketing, and Foodservice Sanitation at a 20:1 learner-faculty ratio.
Online via Sakai, the Bachelor of Arts (BA) in Hospitality Management immerses American Public University majors in practical mid-level training for the $208 billion industry's administrative jobs coordinating guest services. Directed by Dr. Sheri Hernandez, the 120-credit, ACBSP-accredited curriculum splits into Lodging, Tourism, Meeting & Event Planning, and Restaurant Operations tracks for concentration. Fast-paced, eight-week Web classes span from Human Resource Fundamentals to Revenue Management before the three-credit capstone project.
About American Public University
American Public University originated in 1991 when the Retired United States Marine Corps Major James P. Etter established American Military University to support returning Gulf War veterans. In January 1993, its inaugural class of 18 post-grads enrolled in military-friendly degrees via correspondence. In 1995, the Distance Education and Training Council accredited its courses. Three years later, it added bachelor's options and piloted the first World Wide Web learning. In 2002, American Public University was born as its sibling to educate civilians. That same year, its for-profit parent company American Public Education Inc. was incorporated on the Nasdaq Stock Market. In 2006, the Higher Learning Commission took over its accreditation for regional benefits. In 2009, APU first made Victory Media's "Military Friendly" list.
Budgeting $58.7 million yearly, American Public University now employs 1,920 faculty teaching 81,360 Volunteers from 100 countries at an average age of 33 remotely online via Sakai with 70+ clubs like Delta Mu Delta. In 2017, APU received its fifth Online Learning Consortium Effective Practice Award. In 2015, American Public University won the Wharton-QS Stars Reimagine Educational App Award. USDLA Outstanding Leadership Awards and NDTA Distinguished Service Awards have also been accepted. The U.S. News & World Report ranked APU 27th nationally for online bachelor's degrees. On College Factual, APU boasts America's 75th most popular hospitality management program. Washington Monthly picked American Public University as the fifth best Southeast value. OnlineU also declared APU the 22nd most affordable distance degree provider.
American Public University Accreditation Details
On June 20, 2011, the Higher Learning Commission of the North Central Association (HLC-NCA) Institutional Actions Council voted to reaffirm the Level V accreditation at American Public University through 2020-21 under its Chief Executive Officer, Dr. Wallace E. Boston Jr., who earned the Pearson Learning Solutions' Distance Education Leadership Award. Located 658 miles west via Interstate 76 in Chicago, Illinois, this mammoth 19-state Midwestern United States accreditor is recognized by the Council on Higher Education Accreditation (CHEA) to evaluate APU's 25 associate, 51 bachelor's, 41 master's, and two doctoral options. Particularly, the School of Business was accredited by the Accreditation Council for Business Schools and Programs (ACBSP) again on April 26, 2017. American Public University isn't approved by the Accreditation Commission for Programs in Hospitality Administration (ACPHA).
American Public University Application Requirements
Getting into American Public University is classified "non-competitive" by the U.S. News & World Report with a Fall 2017 acceptance rate of 100 percent for open enrollment. First-year Volunteers seeking the AA/BA in Hospitality Management still must earn a high school diploma or an equivalent defined by state law. Cumulative GED scores of 2250 and better are deemed eligible. The School of Business requires GPAs above 2.0 for unconditional entry. Both SAT and ACT exams are completely optional. Associate of Arts majors can transfer a maximum of 45 college-level credits. Bachelor of Arts transfers receive up to 90 accredited credits graded at least "C-." The State Council of Higher Education for Virginia requires 30 percent of degree requirements be completed in residence. International learners must provide a minimum 520 TOEFL pBT, 44 TOEFL iBT, or 6.0 IELTS English score. Earning Delta Mu Delta honors requires bachelor's status and overall GPAs above 3.5.
American Public University conveniently has rolling admission year-round. Current monthly start dates are January 7th, February 4th, March 4th, April 1st, May 6th, June 3rd, July 1st, August 5th, September 2nd, October 7th, November 4th, and December 2nd. Leaving at least two weeks to process the free APU Online Application is suggested. Forward official or unofficial transcripts to 10110 Battleview Parkway Suite 114 in Manassas, VA 20109. Veterans and military personnel can send the Joint Services Transcript electronically. For optional testing, select SAT/TOEFL code 6000 or ACT code 5345. Submit one valid form of identity verification, such as a driver's license or passport. Please contact school representatives at (877) 777-9081 or info@apus.edu for follow-up steps.
Tuition and Financial Aid
For 2019-20, American Public University is charging AA and BA in Hospitality Management majors $270 per credit. Military-affiliated students will pay $250 per credit. Each three-credit online Sakai course costs $790 to $810. Technology fees incur $50 extra per course. eBooks are provided free of charge using the Book Grant. Full-time School of Business tuition would be $3,240 per semester or $6,480 each year. The Associate of Arts has a two-year total of $16,200. Four-year Bachelor of Arts attendance would equal $32,400. Additionally, APU budgets $7,312 for annual room and board. Personal expenses average $2,296 each year. Continuing for the MA in Management or MBA would cost $350 per credit.
According to the NCES College Navigator, the Financial Aid Office at 111 W. Congress Street connects 87 percent of full-time APU Volunteers to tuition assistance averaging $1,441 each for $49.94 million combined. Annually, American Public University offers 15 academic scholarships covering full tuition and books. Other recommended programs include the Adrian Rubin Scholarship, Coast Guard Foundation Scholarship, General Henry H. Arnold Education Grant, Horatio Alger Association Scholarship, National Military Family Association Scholarship, Navy-Marine Corps Relief Society Scholarship, Walmart Foundation Scholarship, and Shawnee Tribe Scholarship. Filing FAFSA forms coded 038193 unlocks Federal Pell Grant, SEOG Grant, Iraq and Afghanistan Service Grant, and Direct Subsidized/Unsubsidized Loan eligibility. The West Virginia Promise Scholarship gifts up to $4,750 for in-state undergrads meeting 3.0 GPAs and 22 ACT scores. AA/BA in Hospitality Management majors also pursue the American Hotel & Lodging Educational Foundation's nine funds, such as the Hyatt Minority Scholarship.
Keep exploring American Public University at the School of Business website.